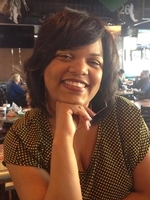 (614) 228-6700
807 East Broad Street
Columbus Ohio, 43205
Receive Email Alerts from Me
Talia has been a Property Manager with Beacon Property Management and Realty for over 10 years.  She has more than 16 years of comprehensive property management experience in Central Ohio.  Talia achieved her real estate license in 2011 and has been awarded the $1 Million Dollar Club with the Columbus Board of Realtors for her sales and leasing in the 2015 fiscal year.  Talia is close to meeting her goal of joining the $5 Million Dollar Club.  Talia attributes her success to her honesty, integrity, and diligence with her clients and she continues to build strong relationships in her field.  Talia has a Bachelor of Science degree in Business Administration and Management from Franklin University.  Talia is the co-founder of In and Out Home Services, where she has created an affordable cleaning and maintenance service for both owners and renters.  She continues her studies to stay up-to-date on the real estate market and grow her knowledge in both real estate management and sales.
Client Comments
"I just wanted to take 2 minutes out of my day to thank you for the wonderful service I getting from Beacon Property Management for managing my property at 5336 xxxx Dr. in Hilliard, Ohio. You guys have made my job so easy and at a very fair price including maintenance work. You always answer the phone and respond promptly to emails and are always honest and upfront, and of course, rent always shows up on time in my account. I can't ask for any better service. I should have signed up with Beacon years ago. Keep it up guys, you have a customer for life! Thanks!"
"I would like to extend my most appreciation to Talia and the crew. We love our new home and coming from out of town to Columbus, I was walked though the entire process from beginning to end! So Thanks from the bottom of our hearts! We look forward to many years doing business with you! God Bless"
Nicole Creagh and Kids
Talia Givens-Gore 's Listings
#221039306 | Multi-Unit Residential
Seller's Rep:
Talia D Givens (614) 371-9655
Beacon Property Management & Realty, Inc. (614) 228-6700